We are conditioned in this modern era to think of nearly everything as a commodity. We have had it beaten into us by one advertisement after another that shouts about low prices and discounts. There is the radio advertisement that guarantees no one will sell it for lower. And the television ad that promises your money back if you can find a lower price. Everywhere we look someone is ready to do it cheaper or to make it cheaper. There is little differentiation. Walmart has built an empire around this. So, too, have McDonald's, Taco Bell and Turbotax.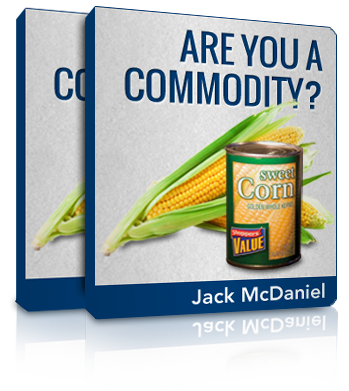 The old-school mega-corporations have reduced everything to price, a battle where they know they are the only winners. They compete on price because they can. They control the economies of scale. They have better (and cheaper) access to resources, including labor and raw materials. It isn't only their products that are commodities. So are their resources. They use minimum wage unskilled labor, which is easily replaced. And they use minimum quality materials that are easy to substitute.
For some things this is fine. Things that are easily replaced, rarely seen or noticed, or quickly used and replenished, can be judged on what they cost versus the alternatives. But this isn't true for everything.
Your small business can't survive on this mindset. Expertise, quality and uniqueness are what separate you from the competition, including the large corporations. Those are the things that add value.
Often, new clients and customers won't understand this. When first meeting with them they will try to reduce what you do to a commodity, and in the process lower your pricing and your products or services perceived value. They aren't doing this because they don't value your work. Most of them are simply viewing you as they have been conditioned to: price first. Your job is to demonstrate the value of your product or service and how it will benefit the client's business.
Some potential customers won't value the work you do. They never will, regardless of how hard you try. In this connection economy they don't want to be part of your group. In today's parlance, they don't get it. That's okay. It's better to choose to do business with those who value your work rather than those who treat it as a commodity. The people who value your work will tell others and help spread the word about your business. Those who don't value the work would simply talk about what a great price they got out of you, if you chose to do business with them.
Recently, I ran into an old friend outside of a restaurant we were both heading into. Jim and I hadn't seen each other in over ten years. Our offices used to be next to each other in Cherry Creek in Denver. Back then he sold high-end men's ties, gloves and dress shirts. I was selling licensed team apparel. As the larger retailers in the industry swallowed up the smaller, or forced them out of business, we both watched our businesses first transform and then disappear altogether. The industry we were in saw many manufacturers go out of business in droves.
During our lunch Jim said to me, "You know, we both hung in there for a long time. When the industry was in upheaval we were doing okay for a while. People didn't have to buy from us, but they did. They could have bought the same ties I sold from anyone. Same thing with your t-shirts and sweatshirts."
"True."
"The difference was," he continued, "we knew their business and we always had a story to tell – sell-thru numbers, maintained margins, upcoming trends, whatever – and we could show them how to use those numbers etc to drive their business."
"Yes," I said, smiling. "Sometimes it's not the product or service that is the commodity. Sometimes it's just how it is represented."
"Exactly."
Let me leave you with this. When I demonstrate how my services set me apart from others, I talk a lot about results and return on investment (ROI). And I always show people this result (Link). Yes, DaVinci Teeth Whitening is a client. That link is a search for "teeth whitening Parker Colorado". DaVinci owns 7 or 8 of the top ten search results on the front page of Google. According to Google, that search is made over 400 times a month. The math isn't too difficult from there to understand the impact that result has on their business.
Your success stories, like the one above, set you apart, build trust and add value to your product or service. In the long run, they make certain you won't be treated as a commodity.