Small Business Guide To Winning Online
Everything you think about your website (if you have one) and your online presence is probably twisted by a lack of perspective or a false mindset. Small and local business owners often misunderstand what their website actually is.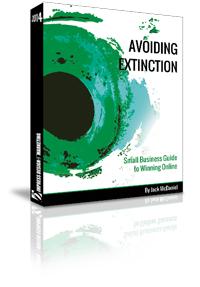 In this small 12 chapter book you will learn what it takes to dominate your local market online and turn your web presence into a valued business asset. Much of the book is anecdotal with a list at the end of each chapter with steps you can take to insure your success.
What You Will Learn in "Avoiding Extinction"
» Why you need to view your website as an employee
» Why building trust and loyalty matter
» How to build your email list
» and a lot more!