Recently, I re–designed a couple of websites that reminded me how important Google can be to a business. Local businesses aren't likely to be made online, but their online presence can solidify their market dominance. The key is learning to make Google work for you.
There are three ways – two relatively new – that Google can separate your business from your competition: Google+/Author, Schema.org and Google Places.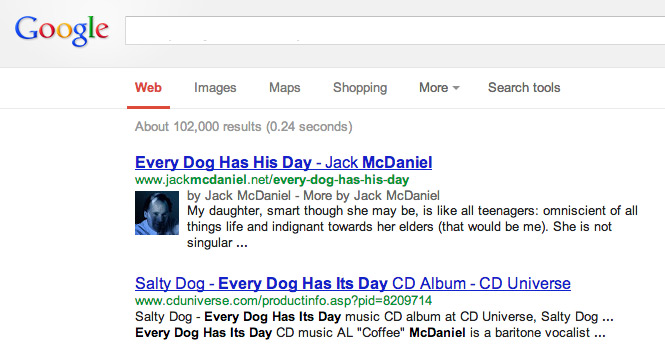 If you have conducted a search recently you have likely seen a small photo next to some of the results listings. This is Google+/Author at work. These listings are very effective. Seeing that image is very effective in a couple of ways. First, Google search results have a very homogenous look – blue links and some text. An image stands out in a big way. Take a look, you'll see what I mean. Your eyes are drawn immediately to the results with an image.
The second benefit of Google+/Author is that the photo puts a face to your business. It creates a familiarity that is impossible to build with a blue, bolded link of your page title. We buy things from people and companies we know and trust. That photo next to the link in a Google search creates a degree of familiarity and trust – however small – versus the other listings on the page. It says to the viewer that there is a real person behind the company.
Schema.org can also make Google (and Bing) work for you, especially if your business is product based (as opposed to a service) and has a permanent location where customers visit. Schema allows you to list things using a specific microdata format that tells the search engine exactly what it is looking at. This data can include location and specific information identifying products – including pricing, sizing, etc. Using schema.org can leave no doubt in the search engines what your business is and what you sell. That can only help in search results.
As the world moves to a more mobile and tablet oriented web it is clear that responsive and adaptive design and Google Places are keys to online success. Google Places is not new, however it is still surprising that so many businesses fail to make proper use of the service. Very few companies (especially small businesses for whom Places is a perfect way to market their business) actually fill out all of the information about their business, even fewer ask customers to leave them a review. Reviews, if you haven't noticed, carry a lot of weight with Google. Google Places pages pull reviews from DexKnows, Local.com, Yelp, Superpages and more.
So, the big question is: Why not? Why are you waiting? It is relatively inexpensive to have a professional put these things in place. Why not do it now and get a jump on the competition instead of waiting and trying to play catch up later.