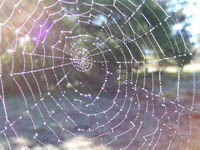 Charlotte's Web is a classic tale of friendship, trust and loyalty. Charlotte spins words into her web in an attempt to convince the farmer that Wilbur, the pig, is worth saving. Your website should take a lot of cues from Charlotte. In particular, it needs to build trust and friendship with those who visit and use it.
Your website is different than any other marketing materials and employees. The question is, is it more effective? It should be. Employees produce for eight hours a day, or thereabout. They take a couple of day off each week. While they know a great deal about the products or services you offer they don't know everything. And some are more effective than others at explaining the benefits and features of those products.
On the other hand, your website works 24 hours a day. Look at the stats for your site and you will see visitors logging on at all hours. In all likelihood, your website deals with more potential customers in a day than all of your employees combined.
What makes your site truly effective? There are things that can be done - NOW - to insure your website's success. And in these economic circumstances why wait to improve the one tool that interacts with more potential customers than all others.
The key to online marketing is establishing customer trust and loyalty. You build this by making customers feel special. Give them a reason to return. There are some key things to focus on to make certain you engage your visitors.
1) Pictures Sell. Whether you offer products or services it is important to show visitors what you offer.
2) Benefits Mean More. Your products' features are important, but it's far more important to convey benefits to the user. Separate yourself and your company from the competition. Demonstrate your products' (services') benefits to your users and you give them a reason to buy from you.
3) Provide Interesting Content. You are an expert at what you do. Let that shine through on your site. People trust experts. No matter what else you do, start a blog and write as often as you can.
4) Customer Testimonials / Ratings / Comments. People like to know what others think and feel. Post testimonials to your site. Allow users to leave comments about the things you write. Allow them to rate your products. Let them interact. You build loyalty and trust in your website by allowing people to interact with it and become part of the community.

5) By all means, Capture Information. You want to increase business. You want visitors to your site to become customers. You need a place where they can interact. Now you have to generate a lead. There are several ways to capture information.

Offer a free download. It can be an eBook, a coupon, or some exclusive information only members receive. Imagine you are a financial planner. Offer visitors a chance to sign up for free to a seminar you are hosting (maybe include dinner with it). Once they have signed up you can now send direct marketing materials, email newsletters and special offers.

6) Sell Your Products Online. What excuse is there not to? I can promise you this, if you aren't selling online your competitors are or will be shortly. Quit waiting.
So, there it is. If you want to make your website more effective take that cue from Charlotte, give your visitors a reason to become loyal customers that return often and interact, and most importantly, do business with you and your company.